The No. 25 Pump Gun (1914-1978, 1986)
Daisy produced this gun in both Plymouth, Michigan and Rogers, Arkansas. Except for the World War II years, production ran continuously from 1914 until 1978. In 1986, a special commemorative collector's edition was produced.
Only the Plymouth, Michigan No. 25 guns are covered here.
The original Daisy No. 25 Pump Gun was the invention of the talented Charles Lefever. In 1912, he agreed to come to Plymouth, Michigan for six months to complete development of the No. 25. He stayed for over 40 years.
From the beginning, the No. 25 was a "take-down" gun. It could be taken apart by removing one large screw and then transported in about two-thirds the space.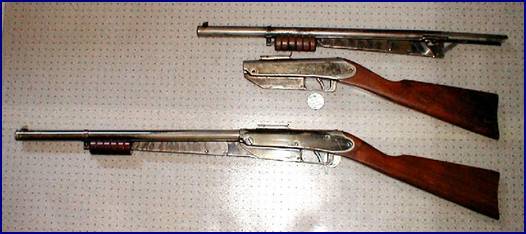 Over the years, the gun had at least three different sizes of take-down screws. The first of these is what is commonly referred to as the "penny-sized" take-down screw. We refer to the other two as the "medium" and "small" take-down screws.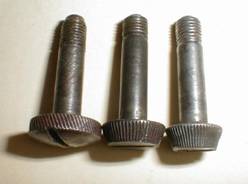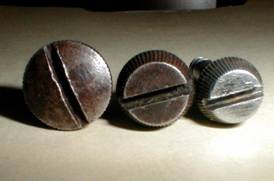 Left to right: Penny-sized, Medium, and Small Take-down screws
Throughout its Plymouth history, the magazine held 50 BBs that were force-fed into the barrel. From 1914 until 1930, the gun had a straight, black- walnut stock and a wooden five-groove handhold for pumping the action.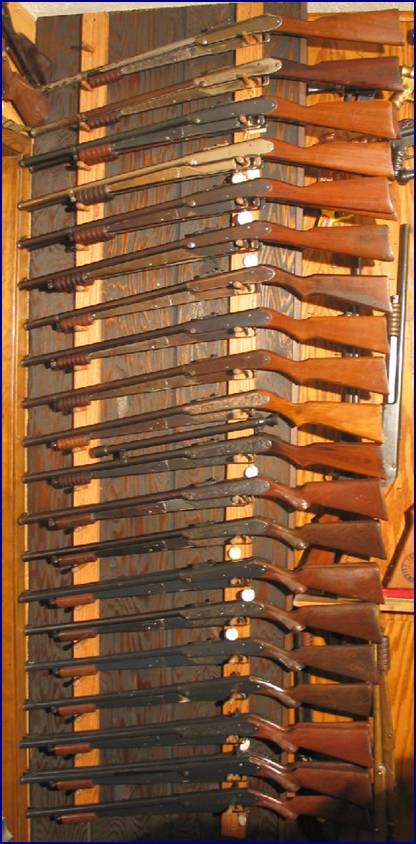 Some of the No. 25 pump guns in author Dennis Baker's collection.
When researching the No. 25 pump gun, we found a few assertions that this air rifle was first produced in 1913. As we researched this, however, we found more and more evidence that the gun was both produced and introduced in 1914.
The Pump Gun ad below is the first known magazine ad for the Daisy pump. It did not appear until almost the middle of 1914. We believe that if Daisy had been selling, or even producing, this gun in 1913, the first ad would have appeared long before it actually did.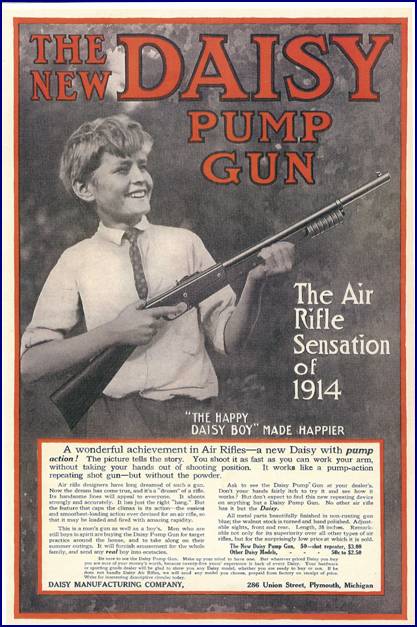 The American Boy – Back Cover - May 1914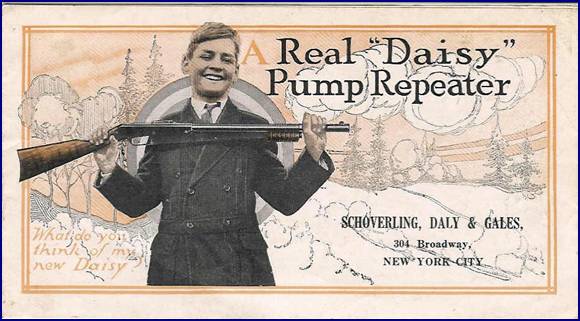 Daisy flyer introducing No. 25 to jobbers
before first magazine advertisement.
This flyer opened up to show the long advertisement below.

We were finally able to corroborate the 1914 date for both production and initial sales when we gained access to Daisy's production records. These records clearly show the number of guns produced year by year. They indicate that Daisy started production of the Pump Gun in 1914 and produced 53,704 in that year.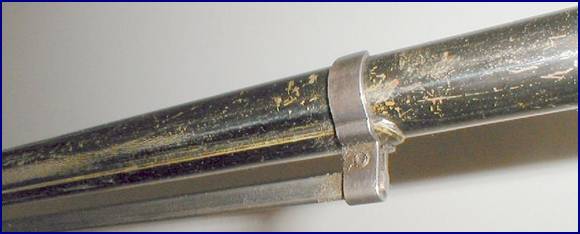 Early No. 25 with under barrel patch (gun cocked and pump handle to rear).
The distinguishing feature of the first pump guns is the under-barrel patch, which held the barrel seam. These early guns were nickel-plated, though Daisy probably would have preferred them to be blued. After all, some of Daisy's competitors had already been bluing their air rifles. But, Daisy was not able to blue these guns because the solder around the under-barrel patch would not take the blue. Daisy's solution to this merchandising dilemma was what we know today as the black-nickel gun.
Since 1910, Daisy had been using a process that turned the metal black. In their advertising, Daisy called this finish "gun-blue." Daisy simply applied a solution, which turned the surface black. The problem was that it wore off pretty easily and may have actually faded with exposure to sunlight.
Some nickel pump gun owners swear that all nickel guns were black nickel. Others own what they believe to be early and totally original, bright nickel air guns. One problem is that, if you polish a black nickel gun, you quickly have a bright nickel gun. But maybe some were indeed made that way. Perhaps too much time has gone by for us to ever really have a definitive answer.
It is certain, though, that if you have a gun with a long patch under the barrel, you definitely have a very early pump gun.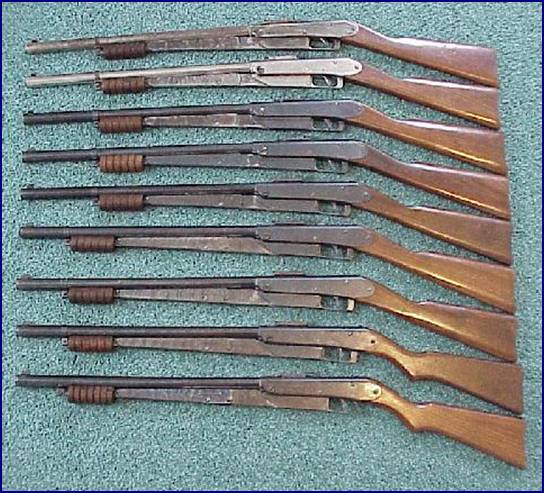 Nine early No. 25 Pump Guns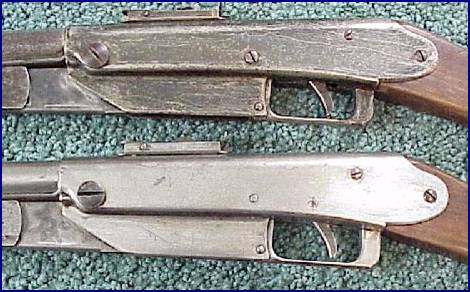 Two early pump gun frames – Top in black nickel and the bottom in bright nickel.
Continue To No. 25 Pump Gun Variations